Introduction
I'm Omar Charroud Oukharraz, I'm from Moroccan origins and I'm 24 years old. I still consider myself a student. I'm not sure why because I haven't been in school for quite a while. Both of my parents are from Morocco but I was born in Lloret de Mar, when I was 1 year old my parents got divorced and I moved with my mother to Italy while my father stayed in Spain. I lived in Italy until the age of 22, so I did all of my school there. I regularly visited my dad on vacations for a long time so from there I also learned to speak Spanish. At home we always spoke Moroccan-Arabic so I learned Spanish from being with friends. I had an easy time learning Spanish because I feel that there are a lot of similarities between Italian and Spanish. I learned English out of personal interest, I wanted to watch movies and play games and from that I learned to speak English as well. English is, for example, also the language I use for the settings in my phone.
My story
The story of me coming to the Netherlands is that before Corona struck, I went to Barcelona in the summer to stay with my dad for a couple of months. The world went into lockdown and I was stuck in Spain for 7 months. I then got into contact with my uncle who lives in Rotterdam, the Netherlands. My uncle has an auto garage there and since I have a great interest in cars I contacted him to see if there were any possibilities for me. I bought a car in Alicante, a black Volkswagen Polo GTI, and I drove it straight to Venlo. A trip of 2000 kilometers. In the first few weeks I stayed with my uncle and I helped repairing, buying and selling cars. After the first couple of months in the Netherlands, the rules regarding Corona also became more strict so we started to sell less cars. That's when my uncle mentioned a company that provides employees for him, N2 People.
Start with N2 People
I got introduced to one of the two owners of the company and got brought into contact with Serafin, the Spanish recruiter of N2 People. That's when I took up a job in Samsung, where I got introduced to a lot of new people. Both young and old, from all different types of backgrounds. I worked there for 3 months after which I got a call again from Serafin, who told me that Tesla was looking for just one forklift driver. That was the moment where I got introduced to Sander for the first time. He was the Accountmanager as well as the Jobcoach for the entirety of the Automotive branch of N2 People. During the seven months that I worked for Tesla I spoke to Sander maybe two or three times. The seven months flew by as if it were a week. I was happy with the job, the environment, the people. I was also happy with the opportunity that out of 500 employees at the time, they provided me with this chance. They gave me a contract for the long term, which I signed. Still I wasn't entirely satisfied with the situation. I felt like there was more in it for me. I contacted Sander and explained to him my situation, that I really feel honored with the opportunity but I felt like I could do more. So I went back to Italy in order to finish my studies.
The next step
While I was in Italy, I received a phone call from Sander, who offered me the position of Coordinator, which later would be referred to as Jobcoach. I had an interview with Bas and Niels. I told them if I came to the Netherlands, it would be for N2 People. I want to invest in the company if the company was willing to invest in me. I want to grow and learn. Take up a Dutch course, see what I can do to develop myself even further beyond the point of being a Jobcoach. I want to finish my education, get certificates, any way I can develop myself. I feel very comfortable at work, having contact with people, taking decisions, seeing results, meetings, overviews, you name it.
The future
Just a couple of weeks ago there were a lot of promotions within the company, from Business Unit Manager to Operational Director, from Accountmanager to Business Manager, from Jobcoach to Accountmanager or planner. Seeing around me that there is the trust in the employees also gives me energy to better myself and work hard so that it's me in the future. I'm developing myself in my role so that I'm preparing for the next step which I think for me would be Accountmanager. Afterwards perhaps something in Finance or Management, as long as I can stay within N2 People and I can keep on learning and growing, it's fine with me. N2 People is one of the few companies that doesn't just make promises, they also stick to them and keep them, and that's something I can see around me every day.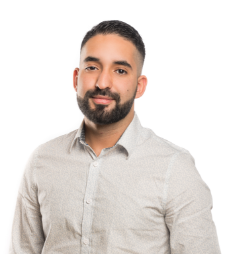 Omar Charroud Oukharraz
Jobcoach Techniek